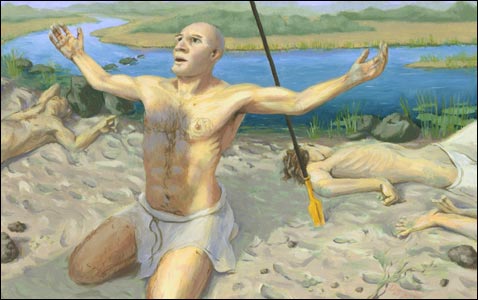 Book Twenty-One
In its pell-mell retreat, half the Trojan army is driven into the river Xanthus (ZAN-thus). Achilles (a-KIL-eez) leaves his spear on the bank and jumps down into the water with his sword. After stabbing and slashing countless men to death, he takes twelve alive to be sacrificed in Patroclus' (pa-TRAH-klus) funeral rites. Then he goes back to work with his blade. He comes upon another son of Trojan king Priam (PRY-am). This one he has captured before and sold into slavery. His freedom purchased by a benefactor, he has only just returned to Troy. He hugs Achilles' knees and asks him to show mercy. Achilles replies that he might once have taken pleasure in sparing the occasional Trojan, but that time is gone. With the man's arms spread wide in resignation to his fate, Achilles plunges in his sword to the hilt. "Death to all Trojans!" he shouts. "Nothing can save you now, not even this river, to whom you have made so many sacrifices over the years."
The river Xanthus deeply resents this affront and inspires a Trojan ally named Asteropaeus (a-ste-ro-PEE-us), the son of another river, to stand up to Achilles. Ambidextrous, he throws two spears at once, and one of them draws blood from Achilles' arm. Achilles' spearcast in return is a miss — the spearpoint buries itself deep in the riverbank. As Achilles rushes in with his sword, the man tries to pull Achilles' spear free. He is still struggling to extract it when Achilles slashes open his belly and his guts fall out. Achilles exults over the corpse. "Son of a river, are you? Well, my father was born of Zeus himself, a god far greater than any stream. What good did the river Xanthus do you?"
Achilles now kills seven more men in the time it takes the river to find its voice. Assuming human form, Xanthus cries out in indignation. "You are choking me to death with corpses. Kindly do your killing out on the plain!" And the river calls upon Apollo to remember his pledge to stand by the Trojans. This infuriates Achilles and he jumps into the river in order to fight with it. The river responds by spewing up its glut of corpses and then rearing up in a huge wave that sends Achilles staggering. He grabs the trunk of a tree, but it is torn up by the roots, damming the river. From the swirling pool that forms, Achilles leaps out onto the bank and goes tearing off across the plain, trying to outrun the river that pursues him in a towering wave, faster than any mortal, even Achilles.
The hero turns to fight and the river looms up over him, then comes crashing down, battering him mercilessly. Achilles cries out to the gods that he'd rather be killed by Hector and die a hero's death than be drowned like some common farmhand. Poseidon (puh-SY-dun) and Athena (a-THEE-nuh) swoop down to reassure him, even as Xanthus calls on his brother river Simois (SIM-oh-is) to swell his surging crest of blood and foam and corpses. But then Hera (HEER-uh) calls on her son Hephaestus (he-FEES-tus), god of fire, to counter the torrent with flames. And Hephaestus explodes into an inferno that scorches the entire Trojan plain, immolating its ruck of corpses, then blasts every bit of foliage from the river's bank before setting its waters aboil.
Xanthus screams out in surrender, and Hera calls Hephaestus off. And now the other gods set at one another in earnest, Ares (AIR-eez) thinking to pay Athena back for the wound inflicted by Diomedes (dy-uh-MEE-deez) with her assistance. He lunges with his spear, but Athena counters by heaving a boulder that catches him in the neck and sends him sprawling, his godly stature extending over seven acres when he crashes down. Aphrodite (a-fro-DY-tee) helps him up and leads him chastened from the battle. But Hera sends Athena flying after, to pummel the goddess of love with her fists, until both she and Ares fall to the ground, to Athena's exultation.
Poseidon challenges Apollo (uh-POL-oh), asking if he has forgotten the time when they were sentenced to serve Trojan king Laomedon (lay-AH-me-don) — Poseidon to build a city wall and Apollo to herd the king's cattle — and then Laomedon cheated them of their wages and sent them away with threats ringing in their ears. "And now you want to side with the Trojans?" demands Poseidon incredulously. But Apollo won't rise to the bait and refuses to fight, despite a tongue-lashing by his sister Artemis (AR-teh-mis).
Hera is appalled that the goddess of the hunt won't take her brother's example and forbear to fight with her betters. "You'd fight me would you?" she demands. "I'll show you that your arrows are best reserved for mothers in labor and beasts of the wild." With that she takes both of Artemis' wrists in one hand and stripping her bow and quiver from her back, boxes her ears with them. Artemis breaks down in tears and rushes off to Olympus to cry in Zeus's lap. Her mother Leto (LEE-toh) picks up her bow and follows after her, unmolested by Hermes (HUR-meez), who says that he knows better than to tangle with any wife of Zeus.
And now King Priam surveys the havoc wrought by Achilles out on the plain and orders the city gates thrown open to shelter the fleeing Trojans. Then as soon as the men are inside, the gates are to be bolted shut against the Greek onslaught. Even so, Troy might have fallen before its destined time had not Apollo found a champion in Prince Agenor (a-JEE-nor). Even champions are inflicted with doubt, and Agenor thinks first of fleeing before he realizes that Achilles will run him down. Then, with Apollo instilling daring in his heart, he thinks that Achilles can be cut down like any other mortal. As the Greek hero bears down on him, he is the first to cast his spear.
His aim is true, and the bronze tip strikes Achilles just below the knee, but the weapon is no match for the armor forged by Hephaestus — the spear bounces off. And then as Achilles charges, Apollo wraps Agenor in a mist and spirits him away to safety. Taking Agenor's form, the god begins to run, with Achilles in hot pursuit, always just closing in, never catching his otherworldly prey. And while they streak off across the plain, the desperate, grateful Trojans take shelter within their city walls.